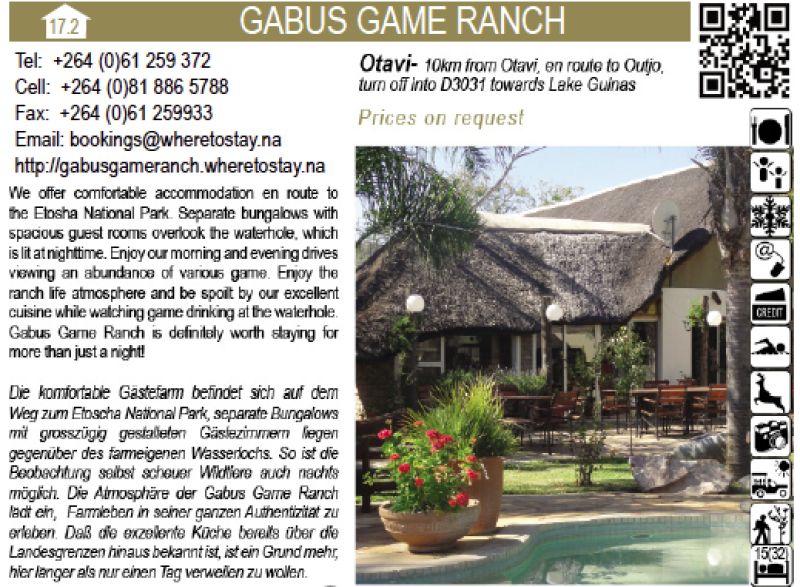 ZONE:
Zone 17: Otavi Mountains



CONTACT:
CATEGORY:
Accommodation: Game Ranch


PRICING:
N$ 880.00 p.p. sharing / N$ 1 100.00 per person single occ / N$ 130.00 p.p. camping per night


---
We offer comfortable accommodation en route to the Etosha National Park. Separate bungalows with spacious guest rooms overlook the waterhole, which is lit at nighttime. Enjoy our morning and evening drives viewing an abundance of various game. Enjoy the ranch life atmosphere and be spoilt by our excellent cuisine while watching game drinking at the waterhole. Gabus Game Ranch is definitely worth staying for more than just a night!

Die komfortable Gästefarm befindet sich auf dem Weg zum Etosha National Park. Separate Bungalows mit grosszügig gestalteten Gästezimmern liegen gegenüber des farmeigenen Wasserlochs. So ist die Beobachtung selbst scheuer Wildtiere auch Nachts möglich. Die Atmosphäre der Gabus Game Ranch lädt ein, Farmleben in seiner ganzen Authentizität zu erleben. Dass die exzellente Küche bereits über die Landesgrenzen hinaus bekannt ist, ist ein Grund mehr, hier länger als nur einen Tag verweilen zu wollen.
---